March 19, 2015
Citizen M Hotel, NYC
On a recent trip to New York we stayed in a new hotel called citizen M. It's a small chain, started in Amsterdam, and this is their first US hotel. It's a new 20 story building on West 50th Street and has a notable European flair, as you'd expect.
While the public spaces are over-scaled and kicky, the typical rooms are extremely small, but well-designed and very cool. The interior measures 7'-6" x 20'-0". That clocks in at 150 square feet – all of it used as efficiently as possible.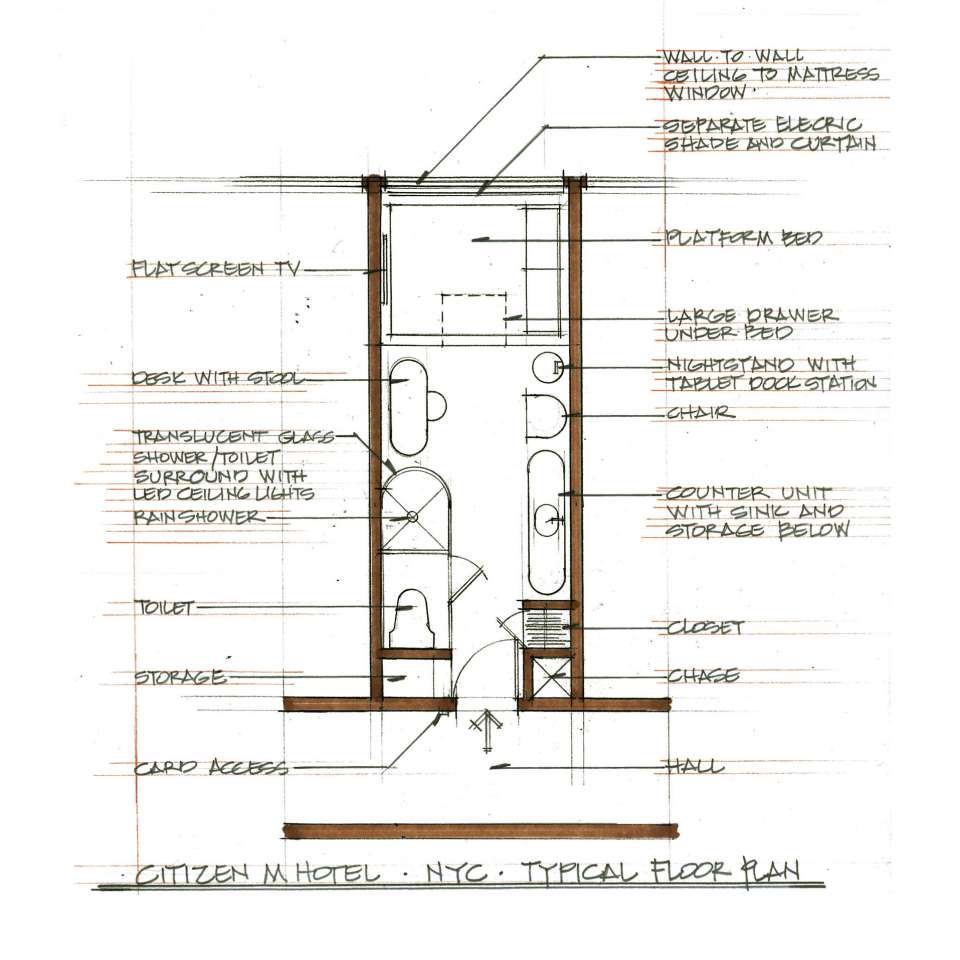 The outside wall is one large glass panel – wall to wall and ceiling to mattress. The huge platform bed takes up the entire end of the room. It was very comfortable and had lots of pillows and a feather bed comforter.
Everything is the room is controlled by a small tablet which docks on the nightstand – the window shade, curtain, TV, lighting and temperature.
The toilet and shower sit behind a curved translucent glass enclosure with LED fixtures in the ceiling. When the lights change, the entire enclosure becomes a huge colored light fixture. Very cool. There are pre-set lighting scenes – business, party, romance, movies – or you can adjust the lighting and colors to your heart's content.
Storage is hidden in several locations, including a large drawer under the platform bed.
It's a great room for one – cozy for two and only with someone you're pretty friendly with.
I'm not sure you can design a smaller hotel room, but given the tight dimensions, this is about as good as it gets. The link below takes you to their website if you're interested in more…..